I'm very excited to announce that a book I've written has been published! The book is called TextMate How-to and is published by Packt Publishing.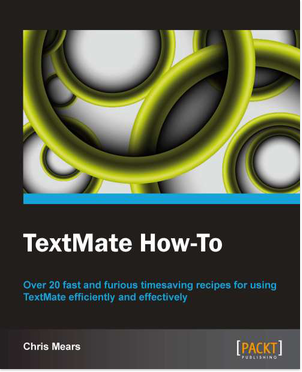 At just a little over 70 pages, it's a short read geared toward web developers and designers who want to learn about the best features of TextMate 1.5 without diving too deep into the manual. It covers the following topics:
Configuring TextMate, including installing themes
Navigating text and files quickly and easily
Converting text using the best and most useful methods
Searching using various methods whether in one or multiple files
Creating and utilizing projects
Installing bundles quickly and easily
Overview of some of the more useful bundles
Utilizing shell commands and variables
Recording and using macros to speed up your editing
This book is not meant to be a comprehensive source (see TextMate: Power Editing for the Mac), but I hope it'll be a go-to resource for those who wish to learn the best practices of TextMate quickly.
If you have a chance to read it, let me know what you think in the comments, and feel free to submit a review.